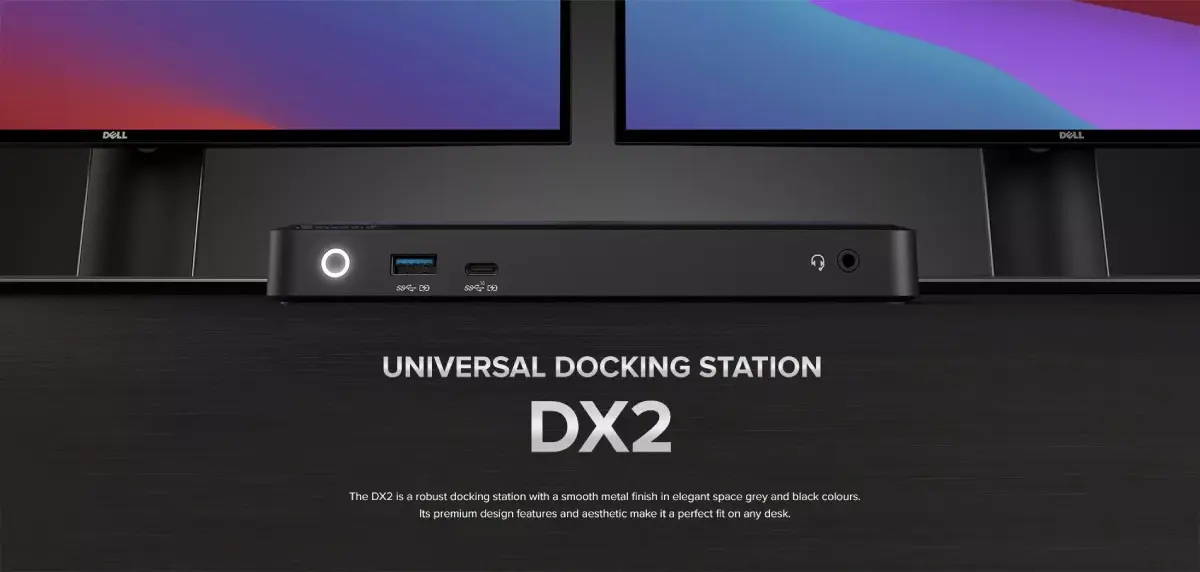 USB-C & USB-A LAPTOP COMPATIBLE

IT decision-makers and organisations have more options with the DX2. It supports USB-C and USB-A laptop deployment.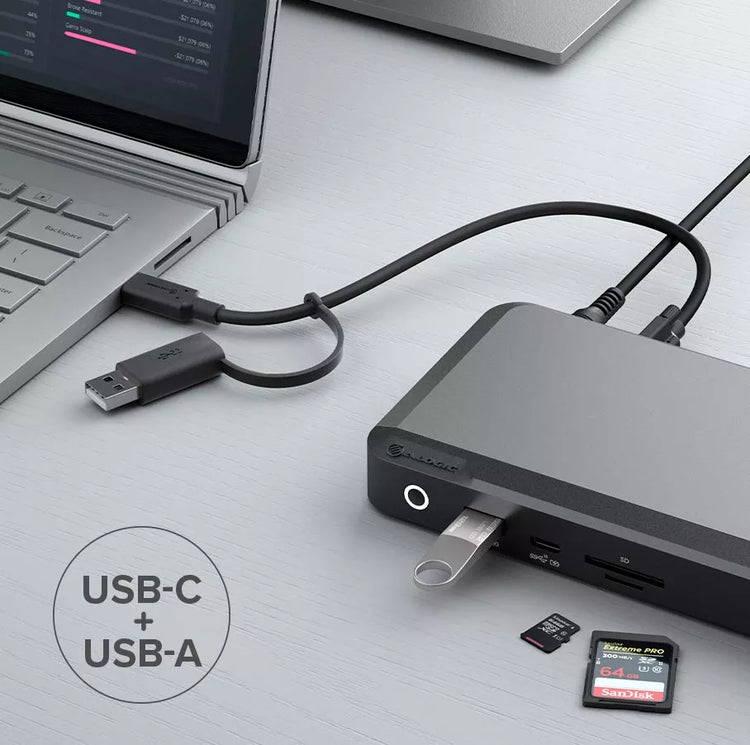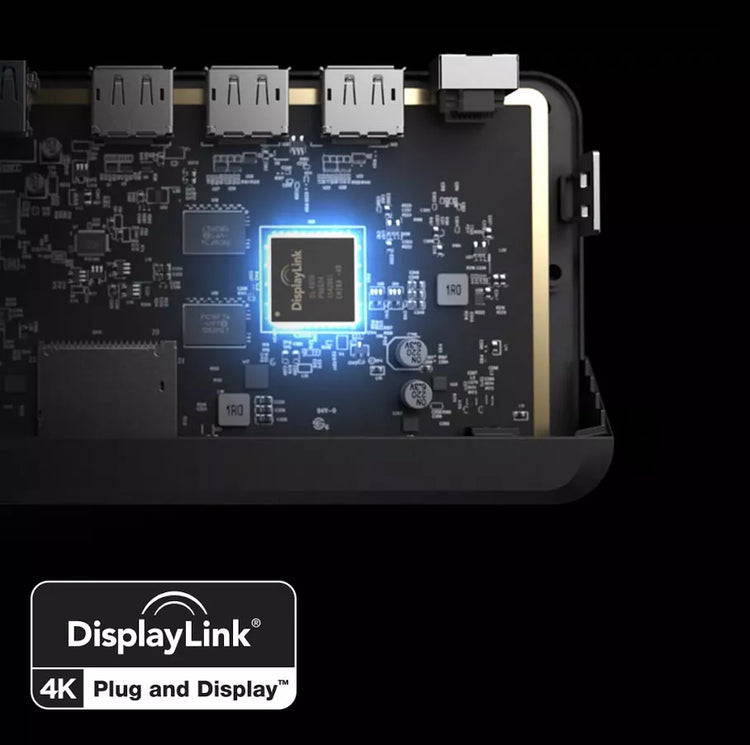 The DX2's DisplayLink technology boosts your connectivity, power and productivity at work.
DUAL DISPLAY ON M1/M2 MAC

M1/M2 Mac users can work on up to two screens when they plug into the DX2.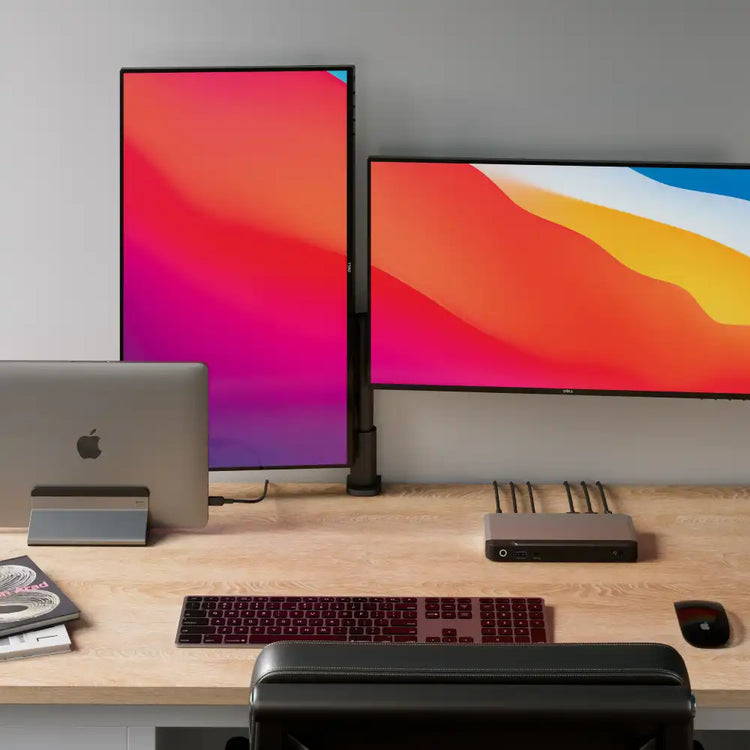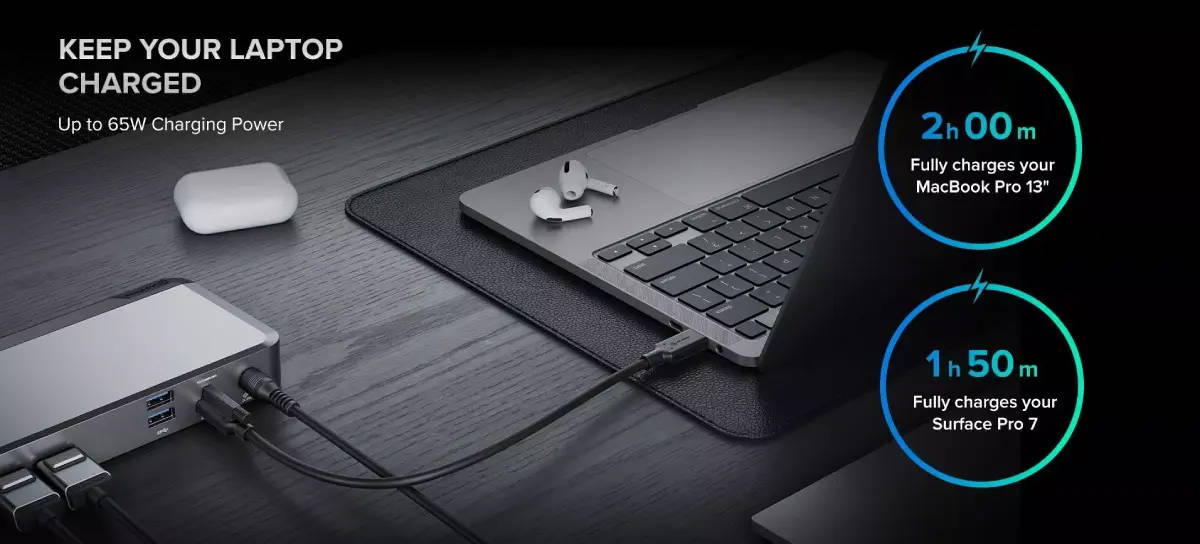 Frequently Asked Questions
What resolutions and how many screens does this support?
This dock can connect you to up to 2 x 4K UHD screens at 60Hz (2x 4096x2160 at 60Hz maximum).
Does this require an external power adapter? How fast can it charge my laptop?

The DX2 can be directly powered from your computer, however, with the included 100W USB-C PD power adapter connected, the DX2 can supply up to 65W of power to recharge your laptop.
The dock's USB-C data port will also be disabled when not connected to external power.
Does the DX2 require any additional software installation?
What are the requirements to achieve 4K displays with the DX2 dock?
To achieve 4K displays, the DX2 will need to be connected to a 4K monitor and have adequate display cables rated for 4K resolutions.
Using the USB-C connection will provide better display options compared to the older USB-A connection.
Does the DX2 support MacBooks, Windows & Chromebook laptops?
The DX2 can support MacBooks (even M1 MacBooks), Windows & Chromebook laptops.
The USB-C cable that comes with the DX2 also has a USB-A adapter so this dock can be used on older generation laptops.
What sort of Video cables are compatible with the DX2 dock?
The DX2 has two DisplayPort output connections for connected display monitors.
We recommend using direct DisplayPort to DisplayPort cables from the dock to the monitor where possible.
IF the monitor only accepts HDMI connections, we recommend using an 'Active' DisplayPort to HDMI adapter (Part No: ULDPHDA-SGR) or a DisplayPort to HDMI cable (Part no: ULDPHD02-SGR).
I have Thunderbolt 3 & or 4 ports on my laptop – will this be compatible with the DX2 dock?
Thunderbolt 3 & 4 ports use the same connector as USB-C. Hence, the DX2 is compatible with laptops that have Thunderbolt 3 or 4 ports however it won't be able to achieve Thunderbolt data transfer rates.
Display Link & Intel Arc Graphics Driver Conflict Causing Windows To Crash
(Display Link) Intel® Graphics Driver 31.0.101.3490 for Intel® Arc™ A-Series Graphics DCH Driver Conflict Causing Windows To Crash
We have identified that the above version of Intel Display Drivers (Arc) conflicts with the current version of Display Link Software leading to windows becoming non-responsive and eventually a complete system crash.
This download installs the Intel Graphics Driver for Intel Arc A-Series Graphics. The driver provides support for Intel discrete graphics cards such as Arc A380, A770M, A550M, A730M, A370M and A350M Graphics (codenamed Alchemist).
In addition, the 12th generation Intel Core processors with integrated Iris Xe graphics and UHD graphics (codename Alder Lake-H, Alder Lake-P) are supported. (Technically all latest OEM Laptops with intel Graphics)
Reason:
The Intel ARC Graphics Driver is the latest driver release for the Windows OS. Installing this Intel generic graphics driver will overwrite your computer manufacturer (OEM) customized driver.
OEM drivers are handpicked and include customized features and solutions to platform-specific issues. The generic Intel driver provides users the latest and greatest feature enhancements and bug fixes that OEMs may not have customized yet to address platform-specific needs.
Solution:
Users facing this issue should uninstall the Arc versions & revert to OEM versions of Video Drivers from the OEM support websites.
Corporate customers should always use OEM drivers and report all issues to Corporate IT Teams through the vendor they purchased the platforms and support.
Installing DisplayLink Drivers on MacOS Version 12
Installing & Enabling DisplayLink Drivers on MacOS Version 12 (Monterey)
This information applies to Apple computers running MacOS version 12 (Monterey).
Docking stations which use DisplayLink technology require software installed on the computer connected to them to function correctly.
Always ensure you have installed the latest DisplayLink software for your machine from the DisplayLink website at:
https://www.displaylink.com/downloads
In addition to installing the DisplayLink software, MacOS Version 11 requires permissions being granted to the software for it to work correctly. These permissions allow the operating system to send video to the docking station to display on external monitors and do not pose any form of security risk.
The following is the process to correctly install and configure the DisplayLink software.
The steps required you will find in the attached PDF here (Click Here)
Downloads
https://www.synaptics.com/products/displaylink-graphics